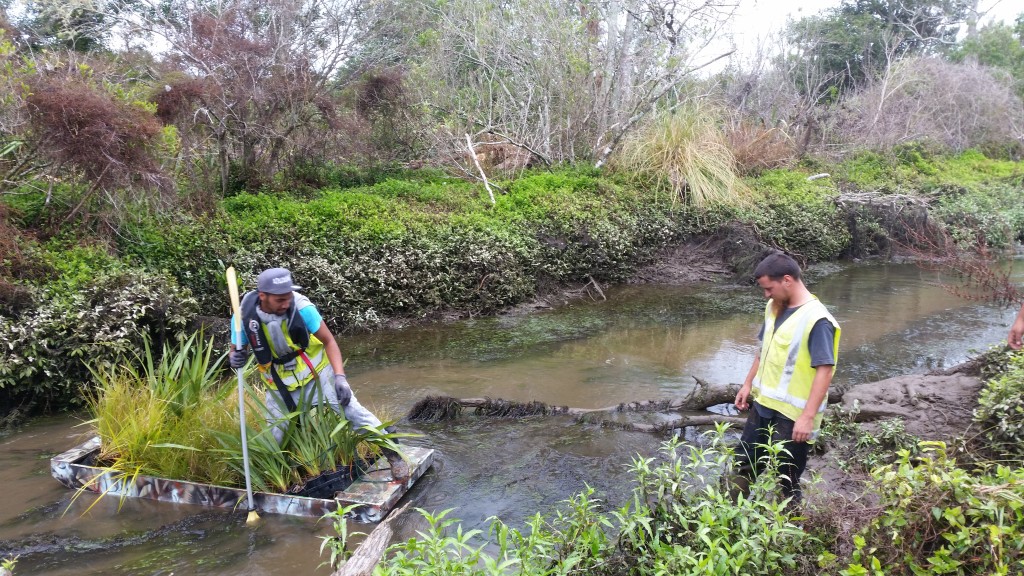 A team working on a stream mitigation programme.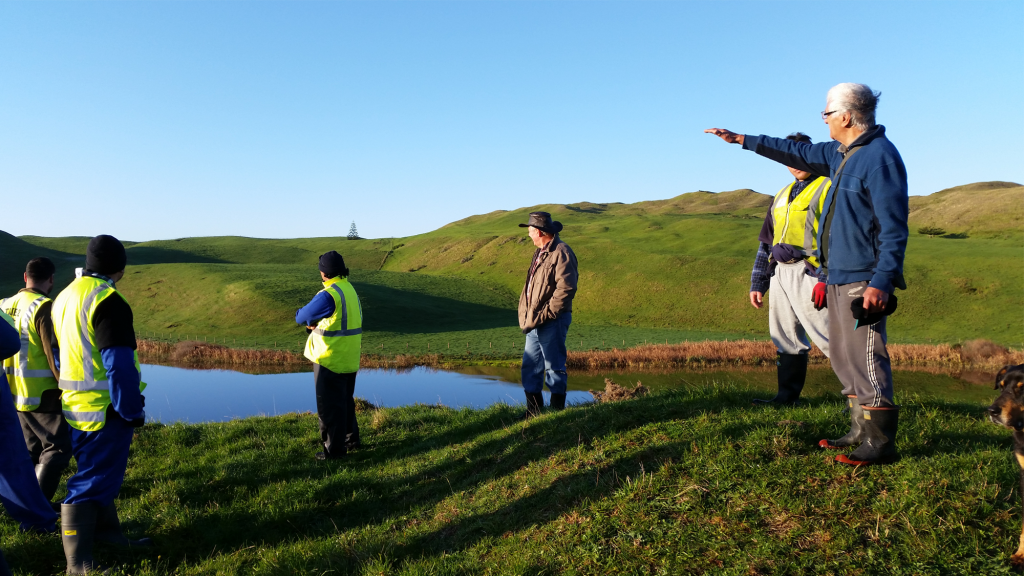 Local kaumatua telling the History of the Planting Site.
Over the last century and a half the industrial revolution and demand for cheap food s has placed unsustainable pressures on our environment.  The cost and time to mitigate the damage to achieve  acceptable environmental outcomes into a fifty year time frame, if we continue to expect industry and agriculture sectors of the economy to meet that cost alone. Environmental responsibility starts in the community with the choice of lifestyle and products consumed. Business reacts to this choice out of necessity to remain economically sustainable.
Our welfare system when compared to other western economies has demonstrated that putting increasing amounts of funding into desired outcomes doesn't necessarily create better results.   New Zealand's welfare system, the most generous in western economies was designed as short stop gap to support whanau through periods of disadvantage and to gain new employment. However over time a sector of our community has become dependent welfare's financial support.  Despite this financial generosity we have one of the worst social outcome statistics among fellow western economies.
With each sector of community collectively taking responsibility for our environment supporting each other in a collaborative manner,  we discover latent resources that are of huge importance in supporting the achievements of outcomes from quite diverse community sectors.
Just recently we had news of a combination of a child care center housed in a in a retirement home had huge benefits for both groups of participants.  Te Whangai partnership with New Zealand Steel shows how a corporate's resources and environmental mitigation needs evolved into a collaborative partnership.  Environmental needs are more economically attainable  while at the same time creating opportunity for people to train and participate with a nurturing platform managing  life challenges and developing skills that leads to sustainable employment.  The collaborative opportunities are limitless and only restricted by our inability to create and hold a space where win situations can be attained in a truly co-operative manner.
Welcome to Te Whangai's Environmental Services.
Te Whangai Environmental services has bases serving Auckland, Waikato, and Coromandel regions and specializes in supplying Eco-sourced native plants and associated landscaping services.
We are one of the few organisations that can supply a project-wide service, including:
Project Management
Site preparation
Native (Eco sourced) plant supply
Planting Service
Maintenance/releasing
Weed removal
Ask us about our guarantee of workmanship. For more information on any of the nurseries or plant supplies, please contact Sales at 027 724 4606 or via email.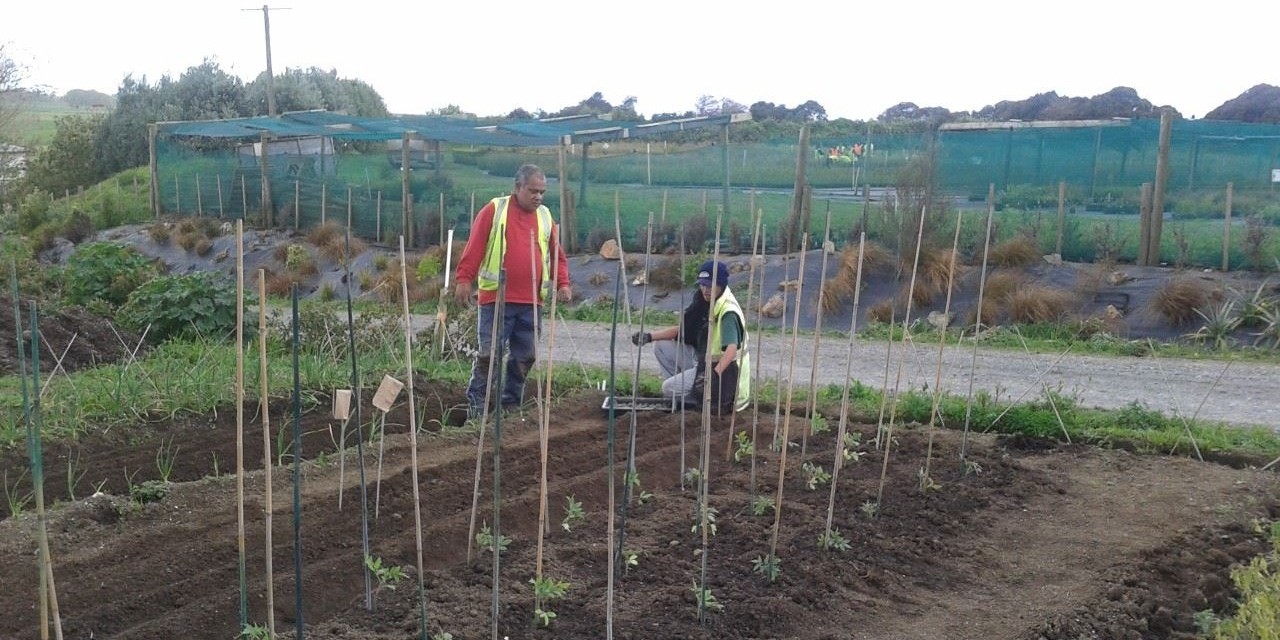 Sustainability begins with a vegetable garden and nutrition.
What is your sustainability policy?
Te Whangai was established to achieve sustainability within the welfare system at the same time providing the environment with goods and services. Te Whangai's vision is to replace New Zealand's current welfare system with a sustainable alternative. Te Whangai's formal sustainability policy is currently under development.
Why is Eco-sourcing so important?
To keep the native plants in a geographical area pure. Te Whangai Miranda, for example, has permission from local iwi to access Tribal land for Eco-sourcing seeds.
What do you look for in a potential Te Whangai location?
We look for areas with high levels of (disadvantaged) unemployment and/or social need.  We look for areas of low employment and negligible social infrastructure in a rural environment. Where families with complex and multiple needs cannot access services for their circumstances.  A Te Whangai nursery set up in an area like this can help develop a safe and vibrant rural community for future generation
Native Plant Nurseries & Plant Supply
Te Whangai now operates three nurseries, supplying wholesale native trees, shrubs and grasses for projects within the Auckland, Waikato and Coromandel regions. Te Whangai now has the capability to producing 500,000 native trees annually for projects within their respective communities. Each of our nurseries is training and education platforms for long term unemployed and those at risk is the community.
Services we offer:
Free advise – Consultancy – Quoting
Project Management
Contract growing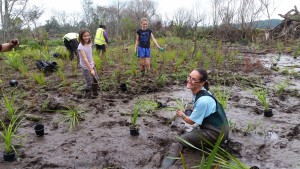 Economic – quality control – local primary children assist with a community plant out.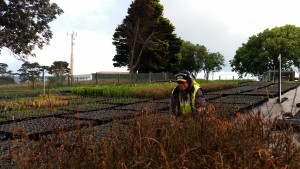 Nursery development at Glenbrook in partnership with NZ steel.
The Nurseries
Miranda, Hauraki, North Waikato
Located in Miranda the original/pilot nursery platform was established in 2007. From a bare paddock and through a recession the Miranda nursery has turned into one of the areas leading nurseries supplying up to 200,000 eco-sourced native trees to the Coromandel and North Waikato region/market.
New Zealand Steel Nursery – Glenbrook South Auckland
The NZS nursery was established in 2013 in partnership with New Zealand Steel. The model was replicated from the Miranda nursery model with a corporate investor (Investors Brochure available on request). With the nursery producing up 150,000 native trees we have the capacity to supply New Zealand Steel with enough trees required for their mitigation services as well as supplying trees for projects within the Auckland region.
Tui Glen Nursery – Pukekohe, South Auckland
The Tui Glen nursery was opened in July 2015. With three large glass houses, the Tui Glen nursery will now propagate all Te Whangai seedlings. The nursery will specialize in growing Eco-sourced and landscaping species, Growing Online (GOL) grade species and speciality plants for projects with Auckland, Waikato, and Coromandel regions.
For more information on our any of nurseries or plant supply, please contact Sales at 027 724 4606 or via email.